Juniors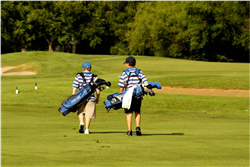 Golf is also a fantastic sport for children, especially primary school age groups, golf can have a very positive effect on children of this age and their development as a person, it:
-Places a strong emphasis on life skills such as honesty, respect,cooperation and leadership.
-Supports children to achieve their personal best.
-Encourages children to develop an understanding between right and wrong.
-Provides opportunities for children to apply their numeracy and literacy skills in P.E.
In addition, golf as a physical education activity:
-Places strong emphasis on standards and good behaviour.
-Does not necessarily require athletic ability so can be used to engage with semi-sporty or non-sporty children.
-Enables children of mixed abilities to easily participate together.
The primary school physical education will benefit from golf because children will:
-Learn how to implement and develop a range of physical literacy skills such as multi-skill technique, object control and stability.
-Play competitive games using modified equipment.
-Help teachers support pupil progression through materials and guidance.
-Enjoy communicating, collaborating and competing with each other.
-Be supported to achieve their potential.

Golf really is a game for all!