The Ultimate Golf learning experience
We combine years of knowledge and experience, the finest customer service and groundbreaking technology to provide you with the best golf lesson experience you will ever have.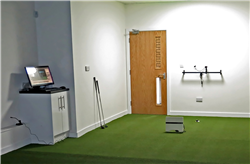 Golf lessons at Beverley Golf Club are either outdoor or inside our air conditioned Golf Studio, a comfortable, fun, environment for learning, whatever the weather.
The studio contains the latest coaching equipment with high speed cameras, G.A.S.P. swing analysis software and Flightscope X2 ball and clubhead tracking technology.

Golf Coaching Prices 2015
Individual 40 minute golf lesson with Stewart Fraser (video analysis) £30
Beverley Golf Club Members rate £25

Short game fix session with Stewart Fraser (40 minutes) £30
Beverley Golf Club Members rate £25

Individual short game clinic with Stewart Fraser (90 minutes) £40
Beverley golf club members rate £35

Group coaching sessions
Beginners 'Get into Golf' (5 week course) £25
Members group coaching (1 hour) £5
Junior club (Saturday and Sunday mornings) £5

Playing lesson with Michael Durcan (2hours) includes green fee £50
Beverley Golf Club Members rate £40

PACKAGES

6 for 5 ( lessons can be mixed between short game long game video and playing. £150 for non member £125 for Beverley members add a full game assessment for just £40 pounds extra

full game assessment. (2 hours) 1 video or short game session get expert advice on all aspects of your game including a plan unique to you. £75 non members £70 for members

short game series.. ( 4 sessions covering putting chipping chipping and bunker play) £100 for non members £90 for members

full game improvement plan. ( 2 video analysis sessions and 2 short game sessions) £ 100 for non members £80 for members

birdie package. ( 6 video analysis sessions, 4 short game sessions and a playing lesson (£260 non members £220 for members

eagle package (full game improvement plan 1 session per month to compliment the plan that we have put in place (the ultimate tour players experience) £320 for non members £ 260 for members