You or your partner might want to combine a visit to our golf club with a shopping trip to Beverley or an exploration of its special historical features.

If it's essentials you're after then we have large Tesco and Morrisons supermarkets about a mile away from the clubhouse with Waitrose a few miles to the south. Rather more interestingly, Beverley boasts a large number of specialist shops from new and second-hand booksellers, antique dealers, picture galleries, fashion boutiques (Jaeger, Monsoon, Lakeland), wine stores, department stores (Browns of York, Boyes); some are national chains but others are owner-run.

If you want to relax and be pampered before, during (ok so not everyone is addicted to golf!) or after your round of golf, then you might want to book a "treatment" at the Sessions House and enjoy its beautiful surroundings and caring services.

There's plenty of accommodation in and around Beverley so check out our article on Places to stay near Beverley Golf Club.
Beverley Races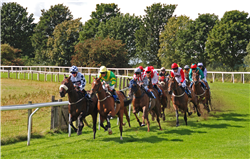 Beverley Golf Club shares the Westwood with Beverley Race Course. We're to the south; they're to the north in an area locals call the Hurn. This gives visitors (and locals) an ideal opportunity to combine a round of golf with a day at the races. Here is the racing calendar for this year.To buy tickets or get more information visit their
Racing page on the web.