Bertha Thompson
Bertha Thompson
is the most notable lady golfer in the history of the Beverley and East Riding Golf Club. Her parents were captain and ladies captain of the golf club in its very early years. Bertha was the winner of the British Ladies Open Championship in 1905. She was lady captain of the Beverley Golf Club in 1902 and the first unmarried lady captain. This is her story and that of her family.
Bertha Mildred Thompson was born in Terrington, Yorkshire in 1876; she was the daughter of George Arthur Thompson and Dora Cayley. Terrington is a village to the north of York and is about 3 miles west of Castle Howard. Bertha came to live in Beverley at the Register House in the middle of the town with her parents when her father was appointed Registrar of Deeds for the East Riding.
Bertha must have played golf at Beverley from its earliest days. The ladies section was established in 1895 and her mother was its third captain. Bertha's sister Lilian also took up golf and took part with Bertha in the first recorded ladies' event in 1897. Later in 1897, Bertha led the Beverley club to victory over the first recorded club match against Scarborough Ladies. In 1901 Bertha now 24 years old and with no defined occupation was to be found at the Rectory, Mavis Enderby, a tiny hamlet in Lincolnshire between Horncastle and Skegness. She was staying at the home of her aunt, her father's sister, Isabel Maude, who in 1882 had married a clergyman, George Ward and were childless. It's possible that Bertha was there for the golf as the village is less than 10 miles from Seacroft Golf Club, Skegness that opened in 1895. Mavis Enderby is an odd name for a village and so appears in a variety of contexts. It is the name of a character in Bridget Jones's Diary. It is defined in Douglas Adams and John Lloyd's book The Meaning of Liff as "The almost-completely-forgotten girlfriend from your distant past for whom your wife has a completely irrational jealousy and hatred".
Yorkshire Ladies Golf Association

There were 47 members in the first year (1900). At the AGM in November it was resolved to buy by subscription a County Challenge Bowl to be competed for by the County members with a handicap limit of 18. The first Challenge Bowl Meeting was held at Ilkley in 1901. The entrance fee was 1/-.(£0.05p) Miss Bertha Thompson (Beverley) beat Miss Jackson also from Beverley by 4/3. In the following year she became lady captain of the club.
In 1902 the Yorkshire Union agreed to run a County Championship for the ladies prior to their own Championship. They offered a beautiful trophy of value 25 guineas. The format was to be 18 holes stroke-play followed by match-play for the ladies with the four lowest scores. The entrance was 2/6d. (£0.121 p). Eighteen ladies entered and the winner was Miss B. Thompson (Beverley) who overcame Miss H. Firth (Headingley) by 3&1.
The British Ladies Championship

In the year 1905, the Ladies' British Open Championship was held at Cromer, by invitation of the committee, the competitors and LGU officers being made honorary members for the occasion. A strong team of lady golfers came over from the United States for the event, including the sisters Margaret and Harriet Curtis. In the final, Miss Bertha Thompson (Beverley and East Riding) played Miss M. E. Stuart (Royal Portrush). Miss Stuart was bunkered at the 16th and failed to get out after four shots, resulting in a win for Miss Thompson by 3 and 2.

The winner the previous year had been Lottie Dod who'd also won a grand slam singles tennis title at Wimbledon. In the following year Bertha lost by 4 and 3 to Mrs W (Alice) Kennion when the championship was played at Burnham and Berrow Golf Club in Somerset. Both the courses were links type courses. The four semi-finalists of 1906 are pictured below (left to right they are Mrs Kennin, Miss Dorothy Campbell, Mrs Simster and Miss Bertha Thompson); the photo is featured in a book "100 Years of Golf":
Copy right PA Photos; an original may be purchased at http://www.mediastorehouse.com/pictures_1380148/golf-burnham.html
Bertha returned to Portrush in the Coronation Year of 1911 only to be beaten in the quarter final by Miss Violet Hezlet, a local player from a notable family of golfing women. Bertha had narrowly escaped defeat in the third round when she managed to win by one hole having been six down at the tenth against a Canadian opponent, Miss Pooley from British Columbia. Miss Hezlet was beaten in the final this year by Miss Dorothy Campbell who was based in Hamilton, Ontario, Canada. Miss Campbell was the first and only person to hold the British, American and Canadian championships at the same time. Although a Canadian she was born in North Berwick Scotland where she learned her golf and emigrated to Canada in 1911.
Violet Hezlet's sister was May Hezlet the author of an extremely influential book in 1904 on ladies golf which Bertha would no doubt have read. Alistair Cooke the late BBC correspondent recalls seeing the book thus:

"I came, the other day, on a publication called Ladies Golf, published in 1904. The frontispiece photograph is of the very fetching author, a former champ - Miss May Hezlet. You might think she was got up for a wedding in the Winter Palace at St Petersburg - a wide, cavalier fur hat, a gorgeous, all-embracing fur collar and a smashing long three quarter coat barely covering her sweeping voluminous gown. It is the preferred costume for a lady golfer. And inside there's a big piece about summer costume - a huge, billowing skirt, great, fluffy, leg of mutton sleeves on a high-necked blouse. How any woman became a champion of anything, except tiddlywinks, is not explained."
In 1909, Bertha took part in an international golf tournament between the 4 home countries, representing England. The tournament was reported in the Illustrated London News. The match was played at Birkdale and Scotland was victorious.

Bertha became a member at Scarborough GC (later Ganton) and Woodhal Spa - she played off scratch at all 3. She continued to enter the British Championship until WW1 and represented England in International matches from 1902 to 1911. She married in 1914 and was Lady Captain of Ganton GC in 1933 as Mrs M E Carrick. In 1936 she still held a handicap of 12.

In the 1911 census, Bertha was a visitor at Clevedon School, Ben Rhydding Drive, Ilkley. The school closed in 2005 when it was owned and run by the Licensed Victuallers Association. It is not apparent why she was there – was it to play golf at the nearby site of her winning achievement in the 1902 Yorkshire Ladies Championship? Or was she giving tuition to the pupils of the school? Unlikely since the oldest child would have been 11 years. The school in 1911 was run by two partners Sydney Kennington and Ernest William Stokoe, a bachelor. Sydney was born in Odsall, Nottinghamshire in about 1873 and died in 1943 in Lancing in Sussex at the age of 71. Sydney moved to the school between about 1907 and 1910 with his new wife Frances Maude Grant. They were married in 1905 in Tonbridge where their first child was born. Frances was born 1883 in Kent. Sydney had played cricket for Tonbridge School in 1891 without much success it would appear since he scored 4 and 0 in the two matches for which records exist.
Click here to return to the list of characters
Dora Thompson nee Cayley
Dora Thompson was the third lady captain of the Beverley Golf Club in 1895. Her daughter was the famous and redoubtable Bertha Thompson who followed her mother as ladies captain of the club in 1902. In 1905 Bertha won the British Ladies Open Championship. Dora Cayley married George Arthur Thompson who was the club captain in 1898.

Dora Cayley was the daughter of Sir Digby Cayley [1807-1883], 7th Baronet of Cayley, Brompton and Dorothy Allanson [1802-1881]. Dora was born in about 1843 in Ripon. Her older brother, George Allanson Cayley [1831-1895], became the 8th Baronet on the death of his father. The 8th Baronet was the father of Digby William Cayley [1834-1912] who was the father of Julia Philadelphia Cayley who married ERB Hall Watt, Lord of the Manor of Bishop Burton. Julia Hall Watt was lady captain of the golf club in 1899. Dora died on 11th December 1931.

Dora's grand-father, was Sir George Cayley, 6th Baronet, 1773-1857 a notable British scientist and engineer. He is recognized as the founder of aerodynamics on the basis of his pioneering experiments and studies of the principles of flight. He experimented with wing design, distinguished between lift and drag, formulated the concepts of vertical tail surfaces, steering rudders, rear elevators, and air screws, and built the world's first glider capable of carrying a human (1853). He was also a founder of the Regent Street Polytechnic London, now the University of Westminster. There was recently an exhibition of his work at the RAF Museum in Hendon.

Dora witnessed the attempted flight in 1853 in Brompton Dale. In 1921, she recalled that the coachman who was in the flying machine left it in some agitation and wanting to resign from his job on the basis that he was employed to drive not fly.

The latest baronet, the 11th, is Digby William David Cayley who has worked as a schoolmaster at a variety of independent schools. He was a graduate of Downing College, Cambridge having previously attended Malvern College.
George Arthur Thompson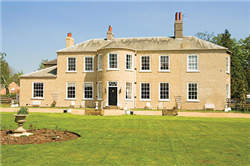 George Thompson
was Beverley Golf Club captain in 1898, three years after his wife had been lady captain. He was the father of Beverley's most notable lady golfer, Bertha Thompson.
George was the son of Lieutenant Colonel George Hamilton Thompson and his wife Anne Maister. In the 1851-1871 census returns, his father was described as a lieutenant colonel in the East Yorkshire Militiamen. He appears to have been the commandant of the East York section of the militia head-quartered in Beverley. In 1871 George Hamilton Thompson was made an Honorary Colonel.
George Arthur was born in about 1841 at Bolton Lodge in Bolton Percy, a village between York and Tadcaster. The family lived there until the 1850's when they moved to Kirk Hammerton, a village on the road from York to Harrogate.
George Hamilton Thompson was born in Welton in about 1806 and he died in Scarborough in 1886; his wife was born in Hull in about 1814. She was a member of the Maister family, a well-known family of merchants in Hull. The Maister's were already connected to the Cayley's as Henry Maister married Mary Cayley, the daughter of Arthur Cayley, the 3rd Baronet – a classic union of money and rank. They had nine children but Mary died in a fire which consumed their house in High St. Hull. Henry Maister re-built the house almost immediately and this is now in the ownership of the National Trust.
http://www.hullwebs.co.uk/content/h-tudor/people/maister/maister.htm
George married Dora Cayley on 22 September 1870. They lived initially in Kirkby Misperton with his parents at Kirk Hammerton Hall. They then moved to Terrington [1874-1880] but in the 1881 census are with her parents at High Hall in Brompton-by-Sawdon near Scarborough, the family seat of the Cayleys. Since her mother died in April 1881, the family may have been temporarily away from their home in Terrington. High Hall is now used as a residential school.
George became an officer in the 12th Lancers but was not active at the time of the 1871 census shortly after his marriage.
By the time of the census return of 1891, the family had moved to Register House, Register Square, Beverley, sometime before 1896 when their youngest son was born in Beverley. This is the house that is now part of the County Council offices.
George Thompson had become the Registrar of Deeds for the East Riding, a position occupied in the early 19th century by an ancestor of his wife. Bertha, aged 14, was living at home and was identified as a scholar in the 1891 census return. She was probably being taught at home by a Governess, Lucy Hilda Brooksbank. However, Lucy's status in the household is recorded as "visitor" which may mean she was not actually working in the house. The family was still in Register Square in 1901, but Bertha was not.
George Thompson was a member of the Beverley and East Riding Golf Club and in 1898 when Bertha was 22 years old he became the captain of the club. His wife also played and she was the third lady captain of the club in 1895.
G A Thompson died on 22 Nov 1908 – an event recorded in the notebook maintained by Page Barrow of Bishop Burton.
Fred Elwell
Fred Elwell was Beverley Golf Club captain in 1914 and 1919. Frederick William Elwell was born in 1870 in Beverley. His father James was a cabinet-maker, and it is to him that Fred owed his high standards of achievement and his love of craftsmanship. Fred began to study art at evening classes at the Lincoln School of Art. In 1887 he won a scholarship which enabled him to embark upon full time studies. It was during his period at Lincoln that he developed an interest in the work of the French Impressionist painters.

In 1889 he became a student overseas at the Antwerp Academy, where his interest and immense skill in portraiture and still life developed under the influence of the work of 17th century Dutch and Flemish artists. Following a further period of study at the Academie Julian in Paris he moved to London, having had his first work accepted for display at the Royal Academy.

Failing to make a living in London, Fred returned to Beverley where he began to establish a successful reputation as a painter of portraits for a wealthy Edwardian clientele. He continued to exhibit regularly at the Royal Academy. In 1914 he married Mary Dawson Holmes (Mary Elwell), herself an artist of considerable talent. Her wealth enabled them to travel extensively, giving rise to Fred's impressionistic continental landscapes. This was also the year that he became club captain at Beverley Golf Club. During the war years, there was no captain as golf would have been largely suspended as the Westwood was used as an aerodrome (at the racecourse side) and a miltary encampment. But in 1919, Fred again became club captain. We have no record of his ability at golf.

The picture of him above was painted by another notable local artist, Walter Goodin. Fred is pictured having a pint in the Rose and Crown just around the corner from where he lived in North Bar Within.

Beyond Beverley, the Elwells were part of a fashionable circle of artists, which included Dame Laura Knight (1877-1970) and Alfred Munnings (1878-1959). More crucially, however, the Elwells' wealth enabled Fred to paint what he wanted and he pursued the theme of working life in Beverley through numerous interiors featuring kitchen maids, woodcarvers and other local craftsmen. He eventually achieved national recognition in 1919 when his painting 'The Beverley Arms Kitchen' was purchased by the Chantrey Bequest for the national collection held at the Tate Gallery in London.

Fred continued to undertake commissions, including a portrait of King George V. His close family and friends also remained his subjects throughout his life, and he gave encouragement, tuition and financial support to several young artists. He acquired a London studio in 1935, and in 1938 was elected to the Royal Academy. He served on its Council and on the Selection and Hanging Committee, the latter being the subject of his Diploma work. Despite his ties with Beverley he was a stalwart of the Academy. His flirtations with Impressionism and Modernism belied his steadfastly traditional working methods and subject matter. In his will he left 1000 pounds to the Academy Schools to endow an annual prize for still life painting. Fred Elwell died in Beverley in 1958 and was still painting three weeks before his death.
Gordon Armstrong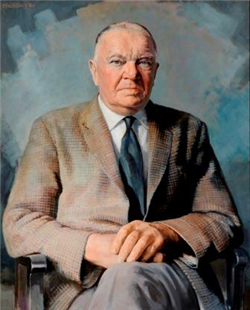 Gordon Armstrong was captain of the Beverley and East Riding Golf Club in 1933 and president from 1944 to 1955. Gordon's full name was Fullerton George Gordon Armstrong. He left Beverley in 1944 to take up residence at Winterbourne Steepleton Manor with his 3rd wife Hilda Kathleen Armstrong (nee Gray but previously Briggs) whom he married in Hull in 1941; Hilda died near Bedford in 1999. They lived there until about 1962 when the estate was sold off. Gordon died on 30th July 1969 in Weymouth, Dorset.

An engineer and inventor to his socks, Gordon Armstrong began building motorbikes and cyclecars. In 1907 Gordon opened a garage and workshop in 49 North Bar Within and in 1909 he built a car, the "vibrationless Gordon",which he manufactured until the First World War. His workshop was used for munitions work during the 1st world war. The site of his workshop became the Triangle Garage and is now St. Mary's Court, a small shopping arcade.He ventured into aircraft and built and flew one (once) on the Westwood in 1910 without much success. He is pictured below, holding the aircraft to the left. He had interesting views and in 1911 he is reported as having proposed the demolition of the North Bar on the grounds that it impeded the flow of traffic in the town.

During the first world war he worked on munitions and tractors, and in 1917 to provide additional space he bought the Eastgate site which had formerly been occupied by Crosskill's. In 1919 Armstrong produced the first of several models of shock absorber. They became the mainstay of the firm, and by 1926 he was producing 200 shock absorbers a week and had gained orders from Ford. An order from Morris in 1929 enabled the scale of the business to be enlarged tenfold, and in 1938 Armstrong built new and larger works on the Eastgate site, where at the outbreak of war he produced 4,000 shock absorbers a day and employed about 450 workers.

During the 1930's and 1940's Gordon lived at Longcroft Hall on Gallows Lane in Beverley now the site of Beverley College.The photo of him is dated 1937, four years after he was club captain. 1937 was also the year that Gordon's 2nd wife, Violet Carrie, whom he had married in 1930 in Wandsworth died of pneumonia on a liner bound for Rio de Janeiro, South America. Gordon presented a lifeboat named "Violet Armstrong". He would have been an impressive man about the town as he drove a Bentley 3.5 litre sports saloon that he acquired new in 1935 and kept until 1950.

He was very active during World War 2 supporting the war effort. A soldier recalls: "There were a lot of men in uniform in Beverley. Gordon Armstrong of Armstrong Patents had a stall in the square which he provided himself for five years serving tea and refreshments for free for any member of the forces and that must have cost him a fortune. He was a great patriot was Gordon Armstrong and he bought two spitfires for the nation so he must have had plenty of brass. He did a lot of good for Beverley, but until recently Beverley forgot about him." He is also reported as donating £8,500 to purchase a Hurricane fighter and setting up a collection via local newsagents. William, Gordon's son by his first marriage, ran the business when Gordon semi-retired after the 2nd world war.

Gordon was born on 9th April 1885 in Bewcastle near Longtown in Cumberland, the third child of William and Prudence Armstrong. His father William was a farmer. In the 1891 census the family lived at Border Rigg. The farm seems to have been in the Armstrong family since at least the 18th century although William was born in Haltwhistle, Northumberland while Prudence came from Scotland. William gave up farming and in the 1901 census the family is living at 30 Middle Street, Driffield. William now works as a land agent/auctioneer while Gordon has left school and at the age of 15 is a clerk to a Provisions Merchant. He then trained as an engineer in Gateshead and served as fourth engineer on a ship in the North Atlantic.

Gordon's parents and his siblings (Gordon included) moved to Beverley sometime in the 1900's and in the 1911 census are to be found living at 27 Woodlands. Gordon married Margaret H Clark in Easington in 1912. Gordon and Margaret had two sons William (Bill) and Gordon junior both born in the late 1910's.

After leaving Beverley in 1944, Gordon seems to have been a fairly regular traveller between England and Durban/Cape Town as a first class passenger on various liners. He was accompanied on five occasions by his daughter by his third wife, Patricia Noeline born on 28th September 1947. His status on the liners at that time was shown as single and father and daughter were accompanied by Noeline's nanny or governess of the time. Noeline went to school at Sea Point, a suburb of Capetown; she is still alive today living near Bedford, England. Noeline has a half brother adopted by Gordon; he was a son of Hilda's from a previous relationship and today lives in Herefordshire.

Armstrong Massey was formed from two well established motor traders based in North and East Yorkshire called Gordon Armstrong and Robert B Massey. The companies were purchased by the giant Unilever Corporation in 1974 and became Armstrong Massey which remains the trading name today. In 1982 a Management buyout was completed.

Gordon Armstrong featured in chapter entitled "Captain of Industry" in the book Tales of the East Riding by Martin Lown in 2006.

Beverley Art Gallery has a painting by P W Storey of Gordon that is dated 1962. It is believed to be after the style of a painting by Fred Elwell but this has not been verified and the whereabouts of the Elwell painting are not known.
Julia Hall Watt
Mrs Julia Hall Watt was the ladies captain of Beverley Golf Club in 1899. She was the wife of ERB Hall Watt, Lord of the Manor of Bishop Burton until his death in 1908. She subsequently married Gervaise Eyre and died in 1923. She lived at High Hall, Bishop Burton, now the site of the Bishop Burton University College. She was the niece of Dora Thompson (nee Cayley) who was ladies captain in 1895. This was the same year that Ernest hall Watt became Deputy Lord Lieutenant of the East Riding.

Ernest and Julia Hall Watt were regular visitors to the village school in Bishop Burton and were generally recognised as generous benefactors in the village. Mrs Hall Watt took an active part in school business, checking on registers, taking needlework classes and handing out presents and prizes to the children. However, the sporadic nature of her visits to the school indicates that the family travelled often between Torquay, their Cowling estate near Keighley, probably France as well as Bishop Burton.

Ernest Hall Watt was an early motoring enthusiast but unfortunately died in a motor accident on 4th July 1908 in France, probably one of the earliest victims of a motor car. At this point their son Richard would have become the Lord of the Manor of Bishop Burton. However, because of his youth John Coulthurst arranged to act as his guardian in respect of his manorial duties. Mrs Hall Watt was married again in 1913 to Gervais Eyre. She died in 1923 and this was followed shortly by the sale of the Cowling estate. Richard joined the Grenadier Guards in World War 1 but was killed in action. He features on the war memorials in the village of Bishop Burton. Their younger son Alvery Digby became the Lord of the Manor.
R S Stevelly
Robert Sankey Stevelly was Beverley Golf Club captain in 1895.

Robert was born in Belfast, Northern Ireland in 1845. He was the son of Professor John Stevelly who was professor of Natural Philosophy at Queen's University, Belfast. Robert obtained a BA at Peterhouse College Cambridge University graduating in 1868. In the 1871 census he appears as an assistant teacher at a boarding school in Aldenham, Hertfordshire. In 1881, Robert was lodging in Magdala Terrace with the family of Captain William Brown. He was now a schools inspector and he is mentioned in the school log of Bishop Burton School during the 1890's.

By the time of the 1891 census he had married Susan Stephenson in 1884 and they lived in New Walk. By 1901, Robert and his wife, Susan, had moved to Hampstead where he was employed as a School Board Inspector. By 1911 Robert had retired to Hessle. He died in March 1916 at the age of 71. His widow Susan died three months later.
Captain CHW Maunsell
Captain Charles Henry Wray Maunsell was Beverley Golf Club captain in 1893 and 1894, the same years that his wife, Amy Charlotte, was the club's first lady captain. He was born at Monasterion, Kildain in Ireland in 1858. He was the son of Reverend Robert Augustus Maunsell and Florence Frances Anne Erskine Hall. He married Amy Charlotte Matthey, daughter of George Matthey, in 1884.

He was educated at Rossall School, Fleetwood, Lancashire, England. He fought in the Afghan Campaign between 1878 and 1880. He was in the War Office. He gained the rank of Major in the service of the East Yorkshire Regiment.1 He was invested as a Officer, Order of the British Empire (O.B.E.). He held the office of Justice of the Peace (J.P.).

Charles had a long military career. We know that in 1877 he was an officer in the West Cork Artillery Militia. In the 1892 Directory of Beverley, Captain Maunsell is described as adjutant 2nd Volunteer Battalion East Yorkshire Regiment, New Walk. In the census of the previous year he was living at Stephenson Lane on New Walk with his wife Amy and young son, Sydney who had been born in 1889. Charles had marrried Amy Charlotte Mathey in 1885 in Eastbourne, Sussex. In 1881, he lodged at a house in Paddington, London with his father?) Francis and was then a 2nd lieutenant. In 1871 he was a pupil at the Northern Church of England School in Poulton, Lancashire.

After his captaincy of the golf club, Charles was appointed to the Dorsetshire Regiment. In 1899 he was promoted to the rank of major in the East Yorkshire regiment. In 1900 the London Gazette reported his appointment (with the rank of major) as adjutant of the Royal Eastern Reserve Regiment. In 1901 and 1911 census, Major Maunsell lived with his family in Great Warley, Essex and it was to there that he retired from the army.

Charles died in Essex in 1926 and lived there with his wife and only son. Amy died in 1923.

Sydney was a Captain in the Royal Army Service Corps during WW1. He survived the war and lived until 1959 initially in London but for the last few decades in Bath.
A B Reckitt
Arthur B Reckitt was Beverley Golf Club captain in 1896.

Arthur and his wife Helen lived in Hengate House in the middle of Beverley in the 1901 census. He was a director of the Reckitt company based in Hull. In 1891, the family had lived in Park Field in the Seven Sisters Lane area of the town. Arthur was born in Hull in 1863 and was brought up in Craig View, Southfield, Hessle where he is shown as living with his widowed father in 1871 and with his father and step-mother in 1881.

Arthur's father, Francis, was the third of the four sons to whom Isaac Reckitt bequeathed the company of Reckitts and Sons on his death. Initially the company focussed on the production of starch for washing but it rapidly spread into many household and cleaning products. Francis' younger brother, James, became the 1st baronet in recognition for his work in developing Hull's garden village.

Arthur died in Beverley in 1927 but by then he lived in Surrey as well as Beverley.
J H Hobson
J H Hobson was Beverley Golf Club captain in 1900. A 1892 directory describes Joseph Hannath Hobson as the borough treasurer and records that he lives at Hengate house (subsequently occupied by Arthur B Reckitt and his family). In 1911, he lived with his family at a postal address given as "Beverley Bank" and his occupation was "Bank Manager". The Beverley Bank occupied the site that is now Barclays Bank. It opened in 1793 and was unusual in being able to issue its own bank notes.

JH Hobson was born in 1850. He married Emily West in Beverley in 1877. He died on 29 December 1917. In 1851, he lived with his parents on Westwood Road. His father, Frederick, was Clerk to the Commissioners of Taxes.

A recreation ground in Mill Lane was opened in 1884 on a 4-acre. site bought by J. H. Hobson. In 1893 it included a cycling track, as well as cricket, football, and tennis grounds, but part of it was sold in 1912 and it later provided facilities for only bowling and tennis. It was sold in 1932 and built upon.
J J Faser
Dr John Joyner Fraser was the first Beverley Golf Club captain in 1890 and 1891. He qualified as a doctor in Edinburgh in 1878. He was born in Tain, Rossshire, Scotland in about 1851.

He married Edith Hodgson (born in Beverley in about 1861) in 1886. Their daughter, Cardina Vere, was born in Tain in 1892. In the 1891 and 1901 census returns Edith and John are shown as living in Hessle where he practiced as a doctor of medicine. Edith was a daughter of Richard and Maria Hodgson who lived in Westwood Hall on Westwood Road, Beverley, the house he built in about 1854. Richard was the owner of Hodgson's tannery in Flemingate and was the son of the William Hodgson who started the tannery in 1812. In 1881 the tannery employed about 300 people. The circular area on the Westwood that is known as "the gallop" that intersects the golf course on the 1st and 3rd holes and is also adjacent to the 1st and 5th fairways, is also referred to as the "tan" since leather off-cuts from the tannery were spread along the gallop to provide a nice surface for the horses to train on. Now it's just grassed.

Dr Fraser became a Fellow of the Royal College of Surgeons. On their retirement the Frasers moved to live in Scarborough.
Bryan Boyes
Bryan Boyes was Beverley Golf Club captain in 1901. He was an Oil and Colour merchant working on his own account. In the census of 1901 he is shown as a widower living with four daughters in Alexandra Terrace, Beverley. His son, also called Bryan, was boarding at Pocklington School. Bryan was born in Beverley in 1846. His parents were Daniel and Helen (or Ellen) Boyes nee Akrill. We know that around 1839 Daniel was the innkeeper of the Holderness Tavern, then called the Valiant Soldier and now known as the Corner House on Norwood. In 1851, the family lived in Butcher Row and Daniel's occupation is an Innkeeper. In the 1861 census, the inn is identified as the Angel Inn and the family were still living there. A history of Beverley pubs has Daniel as the innkeeper from 1846 to 1872. Around this times Daniel appears also to have been clerk to the Pasture Masters who controlled the Westwood. In 1837 there is a letter from Daniel to a John Greenbury fining him £5 for keeping scabbed sheep on the Westwood.

A Victorian cause celebre occurred in 1851, when Councillor Daniel Boyes (an active Liberal Electioneer, called 'Prime Minister of Beverley') ordered the lopping of the trees of the owner of St. Mary's Manor, Colonel Marten, which overhung the pavement. Marten won the case and a shilling rate was levied to pay the costs.

Daniel Boyes also featured prominently in the election bribery scandal of 1859-1860. A fascinating Hansard report of 1860 refers to the moving of a prosecution against him and Robert Taylor relating to the election in beverley the previous year. http://hansard.millbanksystems.com/commons/1860/feb/02/prosecution-moved

Daniel was also said to be vociferous in opposing several changes in the town brought about by Acts of Parliament. When the old workhouse in Minster Moorgate was found by inspectors to be inadequate, he loudly opposed the plans to replace it on the grounds of cost and the worried that the inspectors always felt the need to recommend "something new and absurd".

Daniel Boyes also led many members of the council in opposition to a private company setting up a piped water supply to the town. They felt that it would involve the council in unnecessary expense and give large profits to the water company rather than the Borough Council. A parliamentary committee agreed with the council on the provision that the Borough Council provide some sort of water supply. However this was not done and Parliament passed an Act in 1881 to build the waterworks.

On November 10th 1873 , Mr. Daniel Boyes died, aged 69. Bulmer's history dated 1892 reports that "he had been Poor Law Guardian, Charitable Trustee, and a foremost partizan in the political campaigns of old."

Bryan married Florence Gertrude Luckman (b 1863) in Kirkby Lonsdale on 11th September 1880. After their marriage, the couple lived at 5 Railway Street in Beverley but by 1891 they had moved to Union Road, Beverley. This road no longer exists but was in the Wood Lane area. By 1901, Bryan was a widower and lived at Alexandra Terrace with four of his children. In 1911, Bryan lived at 23 Woodlands in Beverley with his son, also named Bryan.

Bryan died in August 1933 while living at Kings Mill, Driffield.
Edward Hodgson
Edward Hodgson was the Beverley Golf Club captain in 1897. His brother-in-law Dr J J Fraser was the first club captain some eight years earlier and had married his sister Edith. His older brother, Richard, was President of the club from 1912 to 1926.

Edward was the second son of Richard and Maria Hodgson who lived in Westwood Hall on Westwood Road, Beverley, the house he built in about 1854. Richard was the owner of Hodgson's tannery in Flemingate and was the son of the William Hodgson who started the tannery in 1812. In 1881 the tannery employed about 300 people. The circular area on the Westwood that is known as "the gallop" that intersects the golf course on the 1st and 3rd holes and is also adjacent to the 1st and 5th fairways, is also referred to as the "tan" since leather off-cuts from the tannery were spread along the gallop to provide a nice surface for the horses to train on. Now it's just grassed.

Edward married Constance Frances Hodson in the 1880's; she was the daughter of a "Stuff Merchant" from Manningham in Bradford. The family lived first in Beverley but then moved to Bridlington.
Lord Londesborough
Lord Londesborough was the first President of the Beverley Golf Club, and according to the anniversary book he held that office from 1889 to 1911. However, this gives us a problem as there were actually two Lords Londesborough over that period.

William Henry Forester Denison, 1st Earl of Londesborough (19 June 1834 – 19 April 1900), known as The Lord Londesborough from 1860 to 1887, was a British peer and Liberal politician. He was also one of the main founders of Scarborough FC.

Londesborough was the eldest son of Albert Denison, 1st Baron Londesborough, and Henrietta Mary Weld-Forester. Henry Conyngham, 1st Marquess Conyngham, was his paternal grandfather. He was elected to the House of Commons for Beverley in 1857, a seat he held until 1859, and then represented Scarborough from 1859 to 1860, when he succeeded his father in the barony and entered the House of Lords. In 1887 he was created Viscount Raincliffe, of Raincliffe in the North Riding of the County of York, and Earl of Londesborough, in the County of York.

Lord Londesborough married Lady Edith Frances Wilhelmina Somerset, daughter of Henry Somerset, 7th Duke of Beaufort, in 1863. He died in April 1900, aged 65, and was succeeded in his titles by his son William. It is probably this William Denison who was the President. The 2nd earl was born in 1864 and died in Bournemouth in 1917. The earldom of Londesborough expired on the death in 1937 of the 4th Earl, William's second son and brother of the 3rd earl.

The second Lord Londesborough was the second largest landowner in the East Riding after Sir Tatton Sykes and was a close friend of the Prince of Wales. He was a patron of the Yorkshire County Cricket Club, sponsoring a couple of matches against Middlesex in 1874 and was one of the prime movers behind the Scarborough Cricket Festival. He went on to become President of the MCC, but he did not forget his roots and tried to keep in touch with matters at the Londesborough Park Cricket Club.

Matches were held regularly on the estate at the Park Farm ground, where the current club still plays. It is thought to have the longest history of continuous use of a cricket ground in East Yorkshire.

In 1905 further sporting developments took place in the Park with the creation of the testing nine-hole golf course. Laid out by the famous Harry Vardon in the magical setting of the rolling parklands, the only remaining evidence until 2003 was the decaying clubhouse now demolished.

The golf club struggled to maintain its membership after the war years due mainly to financial and transport problems which sadly contributed to its closure in 1947.

The 2nd Earl of Londesborough was also involved in the development of Blankney Golf club which was started at his estate to the south of Lincoln in 1902 and still thrives today.
G A Robinson
George Arthur Robinson was the 2nd honorary secretary of the Beverley Golf Club and was one of the founding members. He followed E Bainton as secretary who held the position briefly in 1889; Arthur Robinson was secretary from 1890 to 1903. He subsequently became club captain in 1906. He was born in Hull in about 1868 and married Hetty Eliza White of Boston in 1890 and in the 1891 census they are shown as living in Toll Gavel and his occupation is described as a bacon factor. They had at least three children.

According to the Bulmer's directory of 1892, G Arthur Robinson was also secretary and clerk to the dispensary and hospital in Beverley.

It is possible that his wife and daughter were lady captains of the club in 1897 and 1904 respectively. Arthur succeeded his son-in-law William Todd as captain.
E Bainton
(Henry William) Eddison Bainton was the very first honorary secretary of the Beverley Golf Club, elected at the inaugural meeting of members in the Holderness Hotel in 1889. He only held the position briefly giving way to 1906 G A Robinson who was secretary until 1903. Eddison was born in Paddington Middlesex in November 1869, the son of Henry William Bainton and Jessie Alice Eddison. He was baptised in Lancaster Gate Christ Church the following month.

The family lived in Alexandra Terrace at the time of the 1871 census. By 1881, Eddison was a boarder at a small prep school in Leamington. Eddison's father and grand-father were both solicitors in Beverley and Eddison followed in their footsteps. So in the 1891 census we find him visiting a family in Shropshire and his occupation is recorded as an Articled Clerk. Eddison married Maria Catherine Reeves in Hastings in 1908, the year after his father died. After their marriage they went to live in Shotteswell near Banbury living off private means.

There is a record of a Captain Henry William Eddison Bainton serving in the Army Remount Service sometime between 1914 and 1923. The Army Remount Service was the body responsible for the purchase and training of horses and mules for the British Army between 1887 and 1942.

Early in his military career Eddison was awarded the Miltary Cross when he was a temporary lieutenant in the Royal West Kent Regiment. The London Gazette reports the award.

Eddison's father lived with his family in New Walk, Beverley but according to Bulmer's directory of 1892 he was also lord of the manor of North Frodingham.

It is believed Eddison died in 1936 aged 68 in Hampstead.
George Ford
George Ford was Beverley Golf Club captain in 1899 - the tenth anniversary of the club's formation. He was also among the original members of the club in 1889 as he acted as auditor for the first set of financial accounts.

George was born in Billingshill, East Yorkshire in 1839 and died in 1930 while living at Keldgate House. He was the son of John and Charlotte Ford who farmed near Beeford in the 1840's. By 1851 they had retired and now lived in Flemingate, Beverley. They remained there until George's father died and in 1871 the family lived on Beckside. In 1881 George still worked as a bank cashier and now lived on Kedgate.

In 1911 he had retired and his occupation was described as a retired bank cashier. He lived at Lansdowne House, Cross Street, Beverley with his wife, Ellen.
Frank F Lambert
Frank Fitzroy Lambert was club captain in 1902. He was an oil, seed and general merchant in Beverley. By the time of World War 1, he and his wife, Emily, lived at Langholm, North Bar Without, Beverley, a alrge house now being used as a retirement home. Frank was born in 1855 in Hull and he married Emily Augusta Harrison in 1882.Frank's father was a well-to-do commission agent and Frank initially had the same job; Frank's wife was the daughter of Arthur Harrison a successful corn merchant of Cottingham and this would have been his route into the merchant business.

The Lamberts lost a son in World War 1, Captain Kenneth Lambert, of the 1st Bn. King's Own Yorkshire Light Infantry. Kenneth was killed in May 1915 at the age of 28 and is buried at Oosttaverne, Belgium and is commemorated on the memorial plaque in St Mary's Church. Another son, Humphrey was decorated with the award of the Companion, Distinguished Service Order (D.S.O.). He gained the rank of Lieutenant-Colonel in the service of the Royal Artillery.

Frank died in 1916, leaving a considerable legacy to Joseph Malet Lambert, his older brother. His estate was valued at £113,000, equivalent in today's money to about £30 milllion basing it on growth in earnings. Malet Lambert gave his name to a school in Hull. He was was vicar of St. John's Parish, Hull, later elevated to Dean of Hull, Canon of York, and Archdeacon of the East Riding.
W H Tulley
William Henry Tulley was Beverley Golf Club captain in 1903.He was the first captain not to have lived in Beverley, reflecting the recent availability of mechanised transport. The eight miles from his home on Anlaby Road would certainly have been difficult with a motor vehicle.

He was born in 1865 in Hull,the son of William Tulley, a Master Mariner, and his wife Emily.

In 1892 he was secretary of T Gray and Sons, steam tug owners of Wellington Street Hull. He was also a steamship and tug owner in his own right. He married Ada Sanderson in 1895.

In the 1911 census he lived at 339 Anlaby Road, Hull. He died later that year in December aged 46.
George Savage
Dr George Savage was Beverley Golf Club captain in 1904. He was a medical practitioner and was born in Montrose in Forfarshire in about 1871. He married his wife Dora in 1896.

In 1911 the Savage family lived at Newbegin, Beverley, having previously lived at 24 Railway Street.
William Todd
William Todd was Beverley Golf Club captain in 1905. He was born in Beverley in 1862, the eldest son of Stephen Ellis Todd and Elizabeth Cussons. His father was a solicitor and in 1871 the family lived on Alexandra Terrace.

William trained as a solicitor and in 1881 lived with his sister Ethel in Bristol while undergoing his training. He returned to Beverley by 1891 and returned to live with his parents and siblings in Union Road off Wood Lane. The family had moved to Alexandra Terrace by 1901 and there were three solicitors living there. By 1911, William had married Florence Blythe Robinson and they had started a family while living at 41 North Bar Without in Beverley. William died in the Cottage Hospital in 1947 aged 85 while living at 50 Westwood Road.

Florence Blythe Robinson was born in 1878, the daughter of G A Robinson who was captain in 1906, the year after William, and who had previously been the club's secretary. William and Florence married in 1907. Florence was possibly the Miss Robinson who was lady captain in 1904.

William and his father were members of the well-known Crust, Todd and Mills and Sons firm of solicitors that existed in Lairgate, Beverley for over 200 years. It is now part of Sandersons Solicitors.
Dr M D Macleod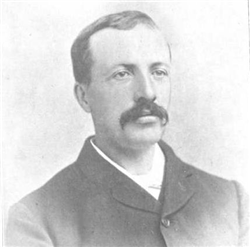 Dr Murdoch Donald MacLeod was Beverley Golf Club captain in 1892. He was born in 1851. His father, the Rev. Norman Macleod of North List, was a grandson of Donald Macleod of Swordale; his father married Julia, daughter of Dr. Alexander Macleod and grand-daughter of Donald Macleod of Hernera.

Dr. Macleod was educated at the High School and University of Edinburgh, and graduated M.B. in 1873, in which year he was appointed Assistant Medical Superintendent to the Cumberland and Westmorland Asylum, which position he held till he received, in 1882, the important appointment of Medical Superintendent of the East Riding Asylum, Beverley. His start there must have been difficult as in 1884 sewage from the Asylum was judged to be responsible for an outbreak of typhoid in the town. In 1886 he was elected President of the East York and North Lincoln branch of the British Medical Association. The doctor's name was well known in medical literary circles as an able writer on subjects relating to his profession, especially insanity, which he had made a special study. A keen student of golf, he contributed in the mid 1890's a paper to the Caledonian Medical Journal on "The Therapeutic aspect of Golf".

In 1897 he was elected Vice-President of the Psychological section at the annual meeting of the British Medical Association.

Dr. Macleod was an enthusiastic volunteer, having joined the 2nd Volunteer Battalion East Yorks Regiment in 1887 as second Lieutenant, and by 1898 he was senior Captain. His company at Beverley numbered 101 men.

He married, in 1882, Isa Janet (Daisy?), daughter of Samuel Marjoribanks, and had a family of three sons and two daughters. The family lived at the Asylum which stood on the site of what is now the Broadgates estate to the west of the club towards Walkington.

Although so long absent from his native Highlands an article about him in the Celtic Monthly of 1898 said that he had lost none of his Highland sentiment, and took a keen interest in the literature, music, and romance of the "north countrie."

Dr MacLeod died in 1908. In the 1911 census his widow lived at 8 Newbegin. Their son Norman MacLeod became a Lieutenant Colonel in the Indian Pioneer Corps but died in Madras in 1944 and is commemorated in the Madras War Cemetery, Chennai.
J Gould-Smith
James Gould-Smith was never captain of the Beverley Golf Club but was secretary of the club between 1904 and 1920. He was also club champion 10 times between 1902 and 1920. In the 1911 census, he lived with his widowed mother Mary at 27 Railway Street. His occupation is given as Borough Surveyor. Living with them at the time of the 1911 census was James' 8 year old nephew Gordon Gould Cameron.

James was born in Sheerness, Kent 1869. His mother was born in Colinton, Midlothian, Scotland in 1836. James' father was also born in North Berwick, Scotland in 1832 and in 1871 was a waterworks engineer living in Kent.

In the 1881 census, the family are to be found living at the Lodge Private Hotel in North Berwick and James Snr is described as the hotel keeper. James Jnr. was 14 and it may be that his interest in golf was connected with this sojourn in the town where the 2013 Open is being played. There is "Golf Lodge Hotel" in North Berwick but whether the two are the same, I'm not sure.

There is a later mention of James as possibly town clerk of Beverley. It's possible also he was the J Gould-Smith who won the aggregate scratch medal in a competition at Tooting Bec golf course in 1894.James lodged in Islington in the 1891 census and appears in electoral registers of North London between 1891 and 1894.

James died in 1953.
John Young
John Young was Beverley Golf Club captain in 1909. I am not sure if if I have found the "right" John Young. I think he was the John Young that in 1911 lived with his wife, Sarah Jane, on Beverley Road, Hull. He was a Gas Engineer (an employer) and was born in Grangemouth, Scotland in 1859. He had previously lived with his family in Norwich and Hanley, Staffordshire.

If you have any thoughts on this person, please get in touch.
A Stephenson
A Stephenson was Beverley Golf Club captain in 1910. I believe he was Arthur Stephenson, a member of the well-known East Riding family of seed crushers based in Hull and Hull Bridge during the 19th and early 20th centuries.

Arthur's father was John Stephenson, and he had 11 brothers and sisters. His father died in 1867. His mother Elizabeth died in 1856 when he would have been 6 years old.

Arthur was born at Hull Bridge in late 1852. In 1861 the census records him as an 8 year old boarding pupil at a school in Highgate, Beverley, probably the Blue Coat School. His younger brother Charles aged just 4 was also a pupil at the same school.

In 1871 Arthur lived with his brother James on Railway Street. James was 11 years older and is described as a ship owner. Arthur's occupation is given as "Russian merchant clerk" whatever that may be. In 1881 Arthur was to be found again in Hull Bridge where he lived alone with a housekeeper.

In 1891 before his marriage he lived with his older brother, Robert R Stephenson, on North Bar Without (possibly Oak House). Arthur's occupation was given as Seed crusher, the same as his brother James. Robert is described as a Brewer Maltster. Robert owned the Golden Ball brewery and pub located where Woolworth's used to be.

In 1911, the census reports that Arthur lived at 31 Newbegin in Beverley with his 2nd wife, Norah. He married first Mary Elizabeth Jackson in 1894 but she died in 1898. He married Norah Sissons of Barton upon Humber in 1901. At that time they lived in Hull Bridge where one of the company's factories was located.

The lady captain of the club in 1894 was a Mrs Stephenson. It's possible this was Arthur's first wife but may have been another member of the large Stephenson family.
James Downs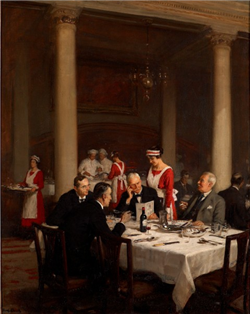 James Downs was Beverley Golf Club captain in 1911.

He was born in Glasgow in 1857, the son of James (Snr.) and Lilias Downs. But the family came to live in Hull when he was quite young as his father had been head-hunted by Christina Rose. He subsequently became a director of Rose, Downs and Thompson.

In 1861, the Downs family had but recently arrived in Hull and lived modestly on Leonard St. in Hull. By 1881, the family lived at 2 The Elms and now had two live-in servants. James Snr. describes himself as an Engineering employer. James Jnr. now 24 is an Engineer Cashier/Clerk. The situation is more or less the same in 1891.

In 1894 James Jnr. married Ethel Ester Wilson from Liverpool.

At the time of the 1901 census, James Jnr. was to be found in the Central Station Hotel in Glasgow and his occupation is now given as "Secretary of Company". In 1911, James Jnr. was with his family at home, now 5 Beech Grove, Newland.

James Jnr. features in a painting by Fred Elwell and kept in the Beverley Art Gallery. It's entitled "Four Friends". The painting is of a large dining room with four diners in foreground; three waitresses and two chefs behind. The painting is set in the Beverley Arms Hotel, Beverley, where Fred was a frequent visitor. The interior has been made to look more grand by the addition of some columns (these do not exist in the actual room). The costumes of the maids suggest a date in the 1920's or early 30's. The four people depicted were all friends of the artist. They are John Turton, manager of the Midland Bank in Beverley (in foreground), Dr. Robert Grieve, a consultant surgeon on Beverley Road, Hull, James Downs Jnr., chairman of Rose, Downs & Thompson Ltd. (a Hull seed crushing business) and Ernest Mills (leaning back in his chair), who was the landlord of the Push Inn. Ethel Downs, the wife of James Jnr., was the subject of a pastel portrait by Elwell, also in the Gallery's collection.

Rose Downs and Thompson (subsequently part of the Davy Ashmore Group) had a long pedigree. The firm began life in the late eighteenth century as a ship chandlery on a site called the Old Foundry. From 1840 it was taken over by Mrs Christiana Rose, the daughter of one of the original partners, Duncan Campbell. By 1851 she employed 50 men. In 1859 she employed James Downs Snr. as manager and the business thrived by specialising in machinery for oil crushing. By 1861 the firm employed 101 men. In 1871, a few months before the death of Mrs Rose, James Downs Snr. was made a partner and the firm operated as a partnership until 1893 when difficult times forced it into becoming a limited company.

Mrs Rose's daughter, Susannah, married John Thompson in 1850 (a rival seed crusher) and their son became a partner in 1874. During this period James Downs Snr. visited America, returning with the plans for new machinery in the form of Anglo-American presses; these could press larger numbers of oil cakes than before and the firm soon became the principal British firm for oil mill machinery. Most of their customers were the seed-crushing firms. Diversification into winches, grab cranes and other pieces of steam machinery for trawl fishing helped them to survive a period of debt in the 1880s and their financial position improved in the 1890s. In the 1910s they had an average annual turnover of 87,000 and they expanded, buying a gear wheel firm in Leeds and opening branch offices in Shanghai and Hong Kong.

During the late 1920s and 1930s, the time of the painting, Rose Downs and Thompson was prospering; the value of its output was nearly 105,000 and 324 people were employed.

In 1938, we have a record of James and Ethel, now 81 and 71 respectively and retired, boarding a ship in London heading to Port Said. They return a couple of months later bound for their home at Dunedin, 71 The Park, Hull.

James and Ethel's son, Brian, became Vice-Chancellor of the University of Cambridge. He was also Professor of Scandinavian Studies and Master of Christ's College at the same University. It was he who commissioned Fred Elwell's portrait of his mother. He died in 1984.
Col. A J Downs
Alfred John Downs was Beverley Golf Club captain in 1913. He was a younger brother of James Downs who was captain in 1911.

Alfred was born in Hull in 1868, some 12 years after James.In 1871, Alfred lived with his parents at No. 5 Pryme St, Hull. Information about his parents may be found in the article on his brother, James Downs. Alfred trained as an accountant and in the 1891 census he is described as an Articled Clerk.

In 1895 he married Elizabeth Crawford Horn and by 1911 they are living at Baynard House in Princess Crescent, Hull. He is now a Chartered Accountant and they have several children.

Alfred was active in the Territorial Army and on his retirement from the TA around 1910 he had reached the rank of Major in the 2nd East Riding Garrison Artillery. He then became an Honorary Colonel. Until 1912 he was a partner in Hodgson, Harris and Co. a firm of Chartered Accountants in Hull. I think he then carried on in his own account.

He died in April 1955. The probate record says he was of 8 Parliament Street, Hull but died at 9 Headlands Drive, Hessle.
James Tabor
James Tabor was the first golf professional at Beverley. Sadly he only lasted a few months in his job and left on 31st December 1889 to be later replaced by George Sayer. Tabor established the first course record, a gross 39 over the nine hole course as it was then.

Initially I thought James was a James Tabor born to a well-off family in Great Baddow, Essex. His father, also named James, played once for Essex at Cricket but died in 1880. James would have inherited the Rochford Hall estate when his grandfather died in 1888, so this might explain his short stay at Beverley. All the more so, since the Rochford Hundred Golf Club was in the process of being constructed at this time. James Tabor III was to be presidemt of the golf club for 43 year to his death. But I think we have to rule him out as Beverley's professional in spite of these apparent coincidences since it is most unlikely that a well-off young man would have taken paid employment as a golf pro.

The other James Tabor, "our" James Tabor, was born in Cherry Hinton, Cambridge, in 1869. In 1901, the census for Scotland shows a James Tabor working as a golf club and ball maker in St Andrews and I think it is this that confirms the likelihood that he was Beverley's 1st professional. His father was a farm labourer. James married a lady called Christina and they had a daughter of the same name born in about 1899. This is also confirmed in an article by Douglas MacKenzie about James Tabor, clubmaker. Follow the link to Douglas' article to find out about the fascinating story of this globe-trotting golfer.
G A Duncombe
George Augustus Duncombe was the first treasurer of Beverley Golf Club, serving from 1893 to 1902. Previously the function had been carried out by the bank, Beckett & Co, in which George was in any case a partner.

George was born in London, the son of Arthur Duncombe, the fourth son of the 1st Baron Feversham. His family was full of high achievers and he was no exception. He was made a baronet in 1919, four years before his death in 1923. He became Honorary Colonel of the 3rd battalion of the Yorkshire Regiment in 1903, having previously been a captain.

Beckett's bank was eventually to be come part of the Royal Bank of Scotland.
Henry Jardine Hallowes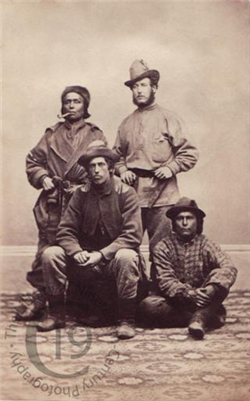 Colonel Henry Jardine Hallowes was winner of the Robinson Cup in 1894 – the 2nd year in which it was run. At the time the competition was based on a total score in a series of monthly medal competitions.

Colonel Hallowes was in Beverley as he was appointed Officer in Command of the 15th (Beverley) District (the recruiting area of the E.Yorks.Regt.) in 1890. In 1891, the census records him living at 1 Park Terrace, North Bar, Beverley with his first wife, Charlotte, and his only daughter. Shortly after winning the Robinson Cup he went to Jamaica where he was briefly its acting Governor.

Henry was born on 13/11/1838 in Hampshire. He was educated privately and in 1855 he joined as an ensign in the 15th. Foot and was promoted to Lieutenant in 1857. He was Adjutant 4/12/1857-17/2/1862; Captain 18/2/ 1862; Brevet Major 29/5/1875; Major, 15/8/1877, at which date the 15th. was renamed the East Yorkshire Regiment; Lt. Col., 13/8/1881.
In 1866 he was seconded to the New Brunswick Militia as Adjutant-General during the Fenian Incursions into Canada and was awarded the Canada General Service Medal with the 1866 Clasp (in 1899 when it was belatedly instituted). He is pictured in a group to the right.

An inscription on the album page identifies the sitters as 'Capt. Hallowes, Mr Thomas and two Indians.' I think Captain hallowes is the gentleman standing at the back on the right side. Captain Henry Jardine Hallowes served in Canada during the 1860s with the 15th Regiment of Foot. The photo is from an album compiled in Canada and Scotland by Lieutenant Robert Hill Wyllie of the 15th Foot and of Bolfracks House, Aberfeldy, Perthshire.

From 1871 onwards he served mostly on the Staff. He was Adjutant of the School for Officers of Auxiliary Forces at Aldershot, 15/2/1871; D.A.A & Q.M.G. (Assistant Inspector of Gymnasia) at Aldershot, 30/4/1879-30/6/1876; Inspector of Gymnasia in India, 23/9/1876-21/2/1882. District Staff Officer 1st. Class, Bombay, 4/12/1881-9/6/1884, also 2nd. Lt.Col. of the 2nd. Bn. of his regiment; Commandant of the Deodali Depot 30/6/1884- 13/12/1887. During the Second Afghan War he was Director of Transport during the Advance to Shirpna. He took part in the operations at Jugdullock and the reoccupation of Kabul. Besides receiving the Afghan medal he was also mentioned in Despatches. He was promoted to Colonel, 13/8/1885. He became Colonel on the Governor's Staff, Jamaica, with the local rank of Major-General, 19/12/1894 on leaving Beverley; this rank was made substantive 16/2/1898. He was placed on the Retired List, 11/5/1900. He was made Colonel-in-Chief of the West India Regiment, 1/12/1910. During WW1 he was Officer in Command of 3 Brigade, National Reserve London Div. and was awarded the Legion d'Honneur and the Croix de Guerre avec Palme. He was the author of a number of books on Military subjects. He died at Kessock Cottage, Tortola, Nairn,
George Sayers
George Sayers was the third professional employed by the club. He was retained for part of 1891 only (probably little more than a month) being paid £2 14s 3d for his trouble. George was a Scotsman, the younger brother of Ben (a.k.a. Bernard) Sayers who started the famous golf equipment company that still bears his name. The Sayers family were based in North Berwick and the family business ran there for 124 years. For a full history of Ben's life and work, there is a most interesting article to be found at this Northberwick Golfers web site.

George was born in Leith, Edinburgh in 1863; Ben was 8 years older. Ben had a son also called George who emigrated to the USA and started a golf business over there.

In late 1891, Ben and George played in a match between the two and two other professionals. This was a match organised as part of the celebrations for the opening of the new club house in the Cricket Mill. In the year of the club's formation, Ben was 3rd in the Open Golf championship held at the Musselbrugh Links near Edinburgh.

Ben Sayers scored 78 and 74 for the two rounds on the first day, 21 shots less than his younger brother. Maybe that was why George didn't last very long as a professional here. On the second day Bernard increased his lead over his brother by four shots.

George died suddenly in 1913. The news report of his death reports that he taught and played golf with the present King and various other dignitaries including Arthur Balfour and Lord Cadogan.
Rev James E Pease
James Ernest Pease was born in 1869 in Routh, East Yorkshire where his father was Rector. He was one of eight children.

According to Bulmer's directory of 1892, the living is an ancient rectory, and the patronage has descended with the manor from the earliest times. The gross value at the time, according to the Diocesan calendar, was £525, including three acres of glebe and residence. The rector, the Rev. George Clifford Pease, M.A., Magdalen College, Cambridge, held the living from 1865 to his death in 1894.

James won the Fraser medal five times between 1891 and 1893; this was when the competition was played twice each year. He was probably the club's first golfer of talent to be from the local area and held the amateur record of 37 for the "old" course (it was nine holes at the time) and 76 when it was played twice. This record stood until the course was extended to 18 holes.

James became a student at Pembroke College, Cambridge in 1888 having previously studied at Malvern College. He was awarded his degree and ordained as a deacon in 1891 and as a priest in 1894. He was Curate of Hevingham, Norfolk, 1893-1906. Vicar of Haveringland, and Rector of Brandiston, 1906-13. P.C. of Hackness with Harwood Dale, Yorks., 1913-16. While at Hackness he married Janet E Little in 1916.

He was Rector. of Heydon with Irmingland, 1916-26, and Vicar. of Guestwick, Norfolk, 1918-26. He died on Dec. 19, 1926.
Arthur Dell
Arthur was the younger brother of William Dell and was born in Branston in 1881/2. He was the professional at Beverley from 1898 to about 1910. In the 1901 census, Arthur is to be found living in lodgings at Newbegin, Beverley, at the lodging house of Margaret Newsome. According to the Hull Daily Mail 'his mashie approaches are near perfect'.

In 1905 Arthur became part-time professional at the Londesbrough Golf Course created in the grounds of Londesbrough Hall by Beverley's president, Lord Londesbrough.

He was subsequently professional in the summer months at the Maloja course near St Moritz in Switzerland and, in the winter, at Hyeres in France (according to Golf Illustrated, May 1926).

William and Arthur were the children of Arthur and Eliza Dell nee Goodwin. Arthur was born in Bedfordshire in 1857. In 1891, the family lived at Chapel Lane, Ilkley, not far from the newly opened Ilkley Golf Course. Arthur Snr. was a horse man (driver).

William Dell was born in Branston, Lincolnshire in early 1881. From 1898 he was the golf professional at Hornsea. In the 1901 census he lived with his wife Mary J Dell who had been born in Mappleton in 1878. In 1906 he is said to have moved to become professional at Hull Golf Club. In the 1911 census he lived at 27 Ventmore St, Newlands, Hull and his occupation is given as Golf Professional.
List of club characters
Here are the stories of some of the many characters who have been members or officers of Beverley and East Riding Golf Club since its inception in 1889.

Click on a name below to go directly to the information about that character.

Bertha Thompson Lady captain 1902 and British Ladies Open Champion 1905
George Arthur Thompson Captain 1898